Triple Action Tabs
91.5% Trichloro-s-triazinetrione
5% Disodium Biborate Pentahydrate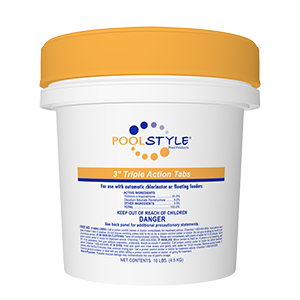 Triple Action Tabs provide highly effective water sanitization, algae control, and water clarity. This triple action performance helps lower overall maintenance cost.
Sanitizer, algae preventer, and water clarifier
The triple action performance makes pool care easy and affordable
Enhances swimmer comfort
Dissolves completely leaving no residue
Available in various sizes.
(N/A in California)
---
Brominating Tablets
98% Bromochloro-5, 5-Dimethylhydantoin
64.9% available Bromine, 29% available Chlorine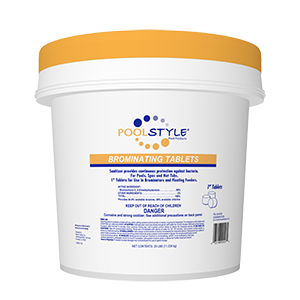 Easy-to-use 1-inch bromine tablets for use in brominators or floaters offer a reliable alternative sanitizing product for pool and spa disinfection.
Sanitizer provides continuous protection against bacteria
For Pools, Spas and Hot Tubs
1" Tablets for Use in Brominators and Floating Feeders
Does not contain stabilizer (Cyanuric Acid)
Available in various sizes.
---
What Does Chlorine Do?
Watch the answer!